Yes you can put your corporate logo on business cards at Click Business Cards.
Thousands of companies have their own corporate business card template set up on our website so they can quickly and easily order or reorder business cards for staff.
I want my company's business card template set up for me.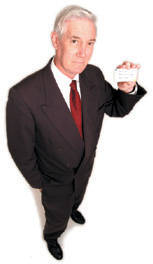 Whether you have 5 staff or 500 you can benefit from the easy ordering system we have for you. You can either do this yourself on our website or we are more than happy to assist you with the process. If you select Business Cards form our Home Page and then the Upload your own Artwork, the steps will become evident as you are guided through the process of creating your own business card template. Otherwise, simply register on our website as a new customer and email us your logo and we can do it for you.
Just some of the benefits to consider when you have your company's cards set up on our website.
Benefits
Great low prices.
You can order 1 box at a time. No more waiting till you have several staff requiring cards to keep the cost down.
Easy online ordering system 24 hours a day.
No faxing or emailing proofs back and forward to the art department. You get what you type and see it live onscreen.
Fast turnaround. Dispatched within 5 working days.
Colour photos at no extra charge. As we print full colour all the time.
No artwork charges for each new staff member. You do the typing online at no charge.
If you would like us to send you samples of the cards we produce so that you can see the quality for yourself then simply click samples in the menu.