The Board Types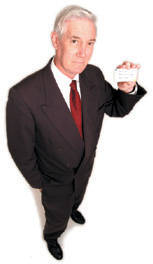 Our Standard cards are a 350gsm semigloss artboard. This board has a great feel to it. It is not a flimsy thin board. This is our most popular product.
We also offer a celloglaze coating (also known as laminating, like UV) on the surface of these cards at an extra charge.
Gloss Celloglazing is a thin shiny plastic film on the cards front and back. Note you are unable to write on this card's surface.
Matt Celloglazing is a silky matt plastic film applied to the front and back of the cards.
We also offer an Uncoated board. This is a porous board which you can write on with any pen or pencil. This is a 350gsm weight board in a high white finish.
We suggest you request samples to see the differences between these finishes if you are at all unsure of your choice.
The Size
The size of are cards are 89mm x 53mm. You may work with a landscape format or a portrait format.
If you are preparing artwork or an image for the background of your card, then please note that you must add bleed. Bleed is 1mm extra around the edge of your card where your image must extend. We then trim this 1mm off after printing. This is to prevent any undesired white edges around your card. So your 'artwork' must be 91mm x 55mm in size.
The Printing
We use the latest Heidelberg printing equipment. We print in four colour process. This is using Cyan, Magenta, Yellow and Black inks. Known as CMYK colour mode.
This process delivers the highest quality printing available in the marketplace today.