Don't you hate it when you order something and then have to sit back and wait with anticipation for the day it arrives. Sometimes days tick by and you are really curious about when your order will be ready. The only way you can find out is usually ringing someone who then has to go and look up your order, only to tell you it isn't ready yet.
When will my business cards be ready?
At Click Business Cards, we have solved your problem. At www.clickbusinesscards.com you need wonder no more. We have developed a state of the art live tracking system that will let you know where your business card order is at any moment. Simply logon and view the status of your order. Your Business Cards may be at Artwork. Your Business Cards may be Printing. Your Business Cards may be at Finishing. Your Business Cards may have been Dispatched. Whatever the state of your business cards order, you can keep track via our live tracking website.
View your Order Status Online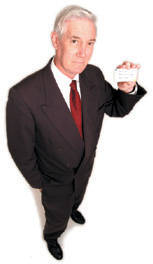 It's an easy process to check your order status. Simply logon to Click Business Cards and see the live state of your order. You can follow it through the stages until it arrives safely at your doorstep.
No wonder more and more people are choosing Click Business Cards for their business cards orders. It's easy. Its fast. Its cheap. It's very high quality. And most importantly, you can keep your finger on the pulse by following your order.
To receive a free sample pack click here.