Businesses have many needs for a good photographer. There are many advantages in finding one that can think outside the box.
You may be looking for a photographer to take some staff portraits to use in your Annual Report. Or some simple product shots of a new item you are about to launch into the market. Or maybe a photo of your building or trade van to go into a promotional flyer.
Photographers who think outside the box are invaluable
When you find someone who knows what they are doing, someone who has been around in the industry for a while, they will suggest some great ideas to save you money. Perhaps whilst photographing one thing they will suggest another shot of a range of products for a more generic brochure you may do later. Or whilst taking a group shot of staff they quickly whip off individual portraits for use on their business cards. Whilst shooting the factory they also suggest a shot or two with staff performing a task which could look great on your website.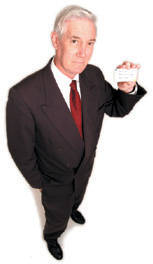 From an experienced photographer can come a wealth of ideas. They've seen it all done before and can save you hundreds of dollars by knowing what you might need just a little while down the track.
It is an inexpensive process to have your photo on your business cards. Or a product shot on the back of your cards. We print in full colour every time we print so there is no extra charge for colour photography to be included on your cards.
With a box of full colour business cards at $49.95 you can have your photographer take a couple of appropriate images for your business cards whilst he or she is there.
If you would like a sample pack sent to you please click here.