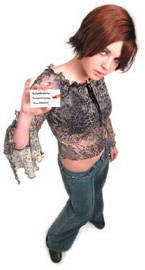 It's becomming more and more common place for everyone to carry a name card. With the many and varied ways we all stay in contact with friends, family and colleagues we are all finding it quite convenient to have a name card where all of our contact details are listed.
Things to include on your Name Card
Home Address
Home Phone
Mobile Phone Number
Email Address
ICQ Number
Work Phone
Have a Family Card
We are finding it very common place for the family to have a name card with 'The Jones Family' as a heading. Listing all of the family details to give out. This is a great thing to have when you are on holidays to share your contact details easily.
Click on Business Cards in the left menu panel and select Personal Cards from the menu to see a full listing of all of our name card templates.
To receive a free sample pack click here.