When designing your company stationery, you probably did or will agonise over getting the look and feel right, the colours, the structure, the shades, the fonts and so on. Everyone you ask has a different opinion and style. You can cut down your time and angst by considering using the skills of a talented graphic artist.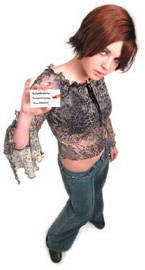 But where do you find one? As with everything else, there are many avenues to find a good designer - your friends, family associates, industry associations etc. Referrals are of course the best method. You can also look online in your favourite search engine or web directory.
Click Business Cards - hundreds of templates
Great design doesn't have to cost you an arm and a leg.
When putting together your theme, have a look through our hundreds of pre-made design templates. We have several artists who work tirelessly putting together card designs to help you present professionally in your marketplace.
We make our design templates available for free to use from our website when creating your business cards via our website online. This way you can have a quality presentation of your product or service within a tight budget - the best of both worlds!
Your designs uploaded for free.
But many of our clients know a graphic artist and have a logo designed already. There is no extra charge to simply upload your artwork to our website and use your own logo or image on our business cards. Uploading is a free service. And you can keep your catalogue of cards online, for when you wish to review them.
Whether you use our graphic artist or yours our business cards remain the very low price of a box of 250 colour cards for under $50.
To view our designs just click on Business Cards in the left menu.
To receive a free sample pack click here.