I want my business cards and I want them now!!!
Here's the scenario... You are filled with the enthusiasm of a new business idea. You've done your homework and just can't wait to get started. First thing you are going to need is Business Cards. The fastest and easiest way to get them into your hand is from Click Business Cards.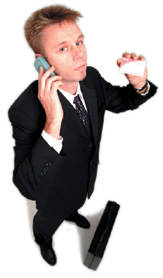 You jump online and visit Click Business Cards and browse our hundreds of designs covering every industry. You click on the design you like, enter your details and click proof. There it is before your eyes. You have just saved $100 - $200 in graphic artist fees. Next you order your cards choosing from the different board types and finishes.
With prices starting at $49.95 for a box of 250 cards, you won't find cheaper anywhere. Pay online via our secure payment site and sit back and relax. Your business cards will be on their way in a few days ready for action.
Easy editing and simple process
A few months down the track, your business is booming. You have handed out all your business cards to happy customers. Now you need some more. Jump online again at Click Business Cards, logon, and there it is. Your cards are waiting for you from last time. Maybe you've added a new mobile number. Just enter the new details and click order and your business cards will be on the way again. How easy is that? You'll wonder how you ever managed to put up with the traditional hassle of ordering business cards. Sit back and a few days later you have your new business cards - home delivered.
To receive a free sample pack click here.