When designing your business cards, it is important to have your text appear the right size. If the text is too small, your clients will struggle to read your cards, and if it is too large your cards appear unprofessional. Then there are industry standards to conform to your peers and not appear inexperienced.
There is also a neat balance to play between the address and contact size with your name and title.
Text Size Guidelines
Here are the standard guidelines to adhere to when setting up your business card text sizes:
Address and Phone Contact blocks should be 7-8 point.
Name 1 point larger. ie If your address is 7pt, then your name is 8pt.
Your Title can either be the same size as your address or 1 point smaller.
Company Name should be 12-15 point in size.
A business card begins to look messy and untidy if you go choosing a different size for everything. So try and keep things consistent. If you have a tag line of services under your company name, then again either the same size as your address or if you have your title one point smaller, then this size is ok also. You can keep your Name the same size as your address and put it in bold instead of enlarging it 1 point.
Minimums
Your address should not be smaller than 6 point. Or 5 point if you type in capitals. Below this you will have to hand out a magnifying glass with your cards.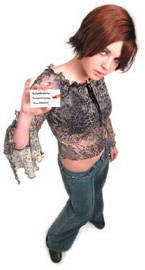 Maximums
Your Name should be no larger than 11 point. Your cards begin to look imatuer otherwise. Your address should be no larger than 9 point unless you are servicing the aged and elderly only.
Industry Specific
It is commonplace for professionals to tend to the smaller sizes. Doctors, Lawyers, Architects all tend to use the 6-7 point for their address details. Where tradespeople will use the larger values.
Font and Typeface Issues
Whilst we have quoted point sizes here, there are a few odd fonts that print particularly small for their size. One that stands out as a problem is the font 'Copperplate'. 7 point will only look 6 point. So we are talking average sizes here.
Preset Standards
All of our business card templates have their fonts and sizes preset. By selecting one of our designs and typing in your details and clicking proof, you will be displayed industry design standards by default. Click 'Business Cards' in the left menu and select any design to try one and see these standard text sizes in action.
To receive a free sample pack click here.