An essential tool for any professional who has to schedule client appointments is a business card with appointment times on the reverse side.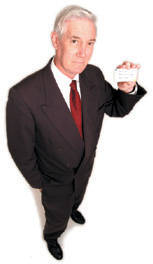 Whether you want just one line or multiple lines for repeat visit scheduling, an appoinment card can be styled on our website.
With our easy to use web interface you can choose a design, enter your text, view and proof your card live online, place and pay for your order. In less than 10 minutes you're done.
Double sided business cards
By having your details handy on the front of the card, your clients can easily contact you if they are running late or unable to make the appointment.
Click Business Cards are world leaders in the online card industry. We supply customers all over the world promptly and efficiently.
Using the menu option in the left panel, navigate through our website to view our free design templates or upload your own artwork.
To receive a free sample pack click here.